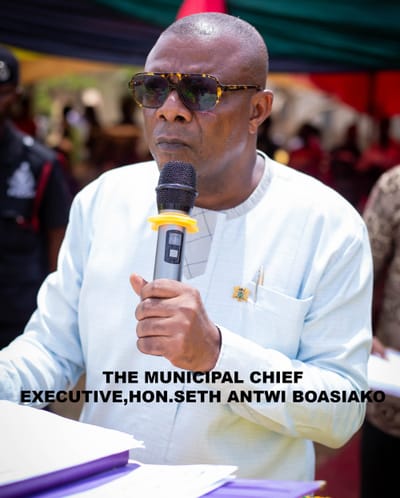 A MESSAGE FROM THE DISTRICT CHIEF EXECUTIVE.Hon. Seth Antwi Boasiako, Would like to welcome you to the official website of the Kwaebibirem Municipal Assembly.

Kwaebibirem Municipal is one of Ghana's leading providers of public services. From healthcare to education, we bring our expertise and dedication to serve the people of Ghana. Our website offers helpful resources and information about our services, as well as a platform for citizens to engage with our team. Visit and discover how Kwaebibirem Municipal is enhancing the quality of life in Ghana.
Kwaebibirem Municipal is a website dedicated to providing information on local services and events in the Kwaebibirem area. With regularly updated content, multimedia, and interactive resources, our website offers visitors a comprehensive view of all that Kwaebibirem has to offer. Visit us today and find out why we are the most trusted source of local news and information!
Kwaebibirem Municipal is one of the 261 Metropolitan, Municipal and District Assemblies (MMDAs) and forms part of the thirty three (33) Municipalities and Districts in the Eastern Region of Ghana.
The population of the Municipality according to 2021 population and housing census stands at 121,698 with 60,110 males and 61,588 females.
VISION
To be a professional service delivery Public Sector Organization collaborating effectively with stakeholders to develop the entire Municipal and to better the lives of the people.
MISSION
The Kwaebibirem Municipal Assembly exists to facilitate the improvement of quality of life of residents through effective mobilization and utilization of resources for the total development of the Municipal within the context of good governance.
GOAL
To improve the living conditions of the people through the mobilization of human, material and financial resources in the provision of basic amenities and essential infrastructural facilities for human subsistence.
CORE FUNCTIONS/LEGISLATIVE RESPONSIBILITIES
The Kwaebibirem Municipality, like all other District Assemblies basically derives its functions from Article 245 of the 1992 Constitution of the Republic of Ghana as well as Section 10(3) of the Local Governance Act (Act 936) of 2016.
At this juncture, The M.C.E welcomes you to the assembly's website.
Thank you